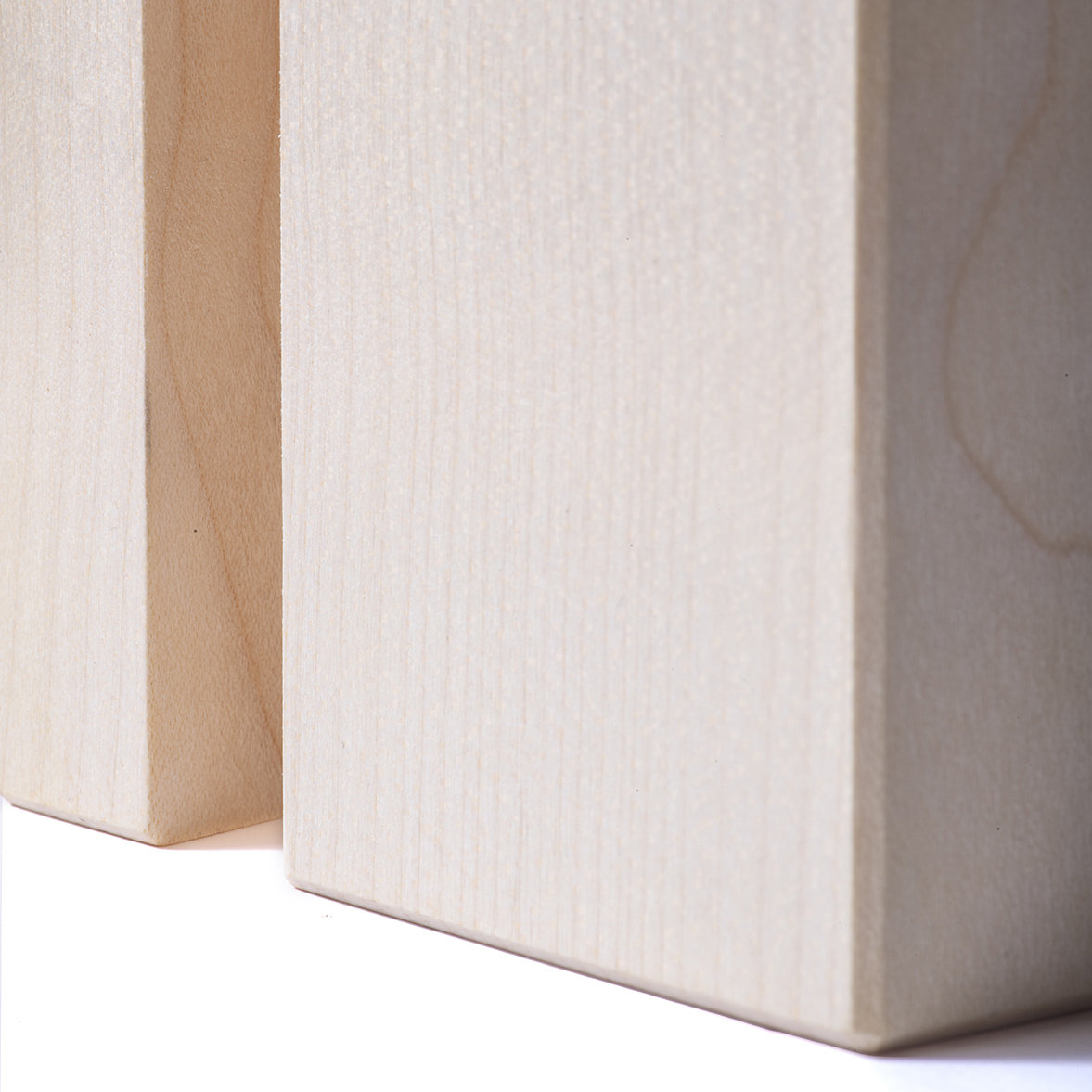 Wood
No other natural material is as versatile as wood. It has so many uses: as a building material and raw material for houses and furniture, as a source of fibres for paper and cardboard, as a base to create objects or even as a source of renewable energy. No wonder we've been using it for millennia!
Wood stands out for its versatility and environmental properties. Worldwide, the amount of wood produced exceeds that of steel, aluminium or concrete, and it has unparalleled recycling and reuse possibilities. There are many different types of wood with a wide variety of characteristics (colour, strength, appearance of the fibres, smell, etc.). Similarly, there are different qualities of wood, depending on the intended use:
The most noble, the most natural… and also the most expensive. This is completely raw wood, which means that the tree was simply cut down and then directly turned into objects with no other processing. Regular maintenance, such as staining, oiling, waxing or varnishing, is essential to keep such wood in good shape.
Plywood is made from peeled sheets of wood called veneers or plies. These very thin sheets are glued together under high pressure in order to form the plywood panel.
Chipboard refers to panels made from fibres or wood particles that are glued and pressed together using heat. This type of wood is cheap, because the raw materials come from waste such as sawdust.
Pros
Wood is an environmental, biodegradable and renewable material. Trees that are cut down, as well as trees that die of natural causes, are replaced with new saplings. These trees then regrow every year to maintain the natural cycle of the forest. Mother Nature knows what she's doing!
In addition, there are labels certifying that forests are managed in a respectful and sustainable manner, such as the FSC (Forest Stewardship Council) and PEFC (Program for the Endorsement of Forest Certification) labels.
Wood comes from a renewable and natural source. It contains carbon that was "captured" by the tree, which contributes to the fight against climate change. In addition, manufacturing wooden objects or constructing wood frames requires less energy and produces less pollution than steel, concrete, aluminium or plastic.
Wood is extremely strong – it actually has a better resistance-weight ratio than concrete or steel. The cellular structure of the wood makes it light while being very solid. It is also a long-lasting material that resists many external factors, especially if properly treated. Wood is a good heat insulator (it reduces heat transmission) and sound insulator (it cushions sound waves from outside).
Finally, wood is considered a high-class material. Wooden objects or a wooden appearance is warm and welcoming. A wooden texture makes an object feel valuable and beautiful. The different wood grains combined with the available finishes make it possible to create varied decorations/effects, from traditional to contemporary designs.

Cons
One of the disadvantages of wood is its poor thermal inertia, which makes it sensitive to sudden temperature changes. It is a natural material that "breathes" and "works" throughout its life cycle. Its appearance will therefore change over time.
Wood is also a material that requires care and maintenance, as it is also very sensitive to moisture and needs to be treated accordingly. If this is not done correctly, mould and fungi will quickly appear and cause damage. These flaws can be solved with appropriate manufacturing and maintenance.
We would be happy to produce your next wooden item. Please do not hesitate to contact us to discuss your future project.